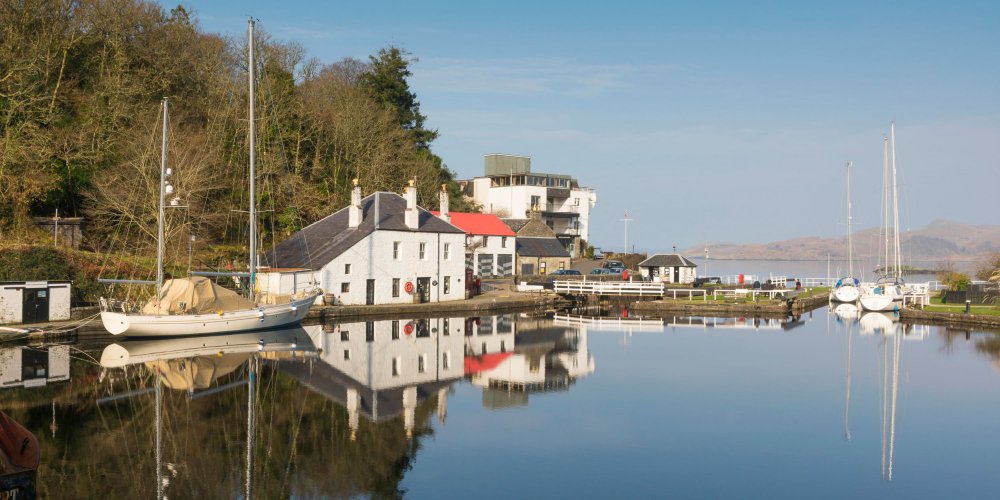 Explore Inveraray, Minard, Kilmartin and Crinan.
Heart of Argyll offers stunning scenery and experiences in Inveraray, Kilmartin, Slockavullin and Crinan.
Inveraray
Experience this historic and traditional town of Argyll, beautifully positioned overlooking the still waters of Loch Fyne. An excellent base for day tours within the Highlands & Islands. Established in 1745 by the 3rd Duke of Argyll, head of the powerful Clan Campbell, the town is an absolute set piece of Scottish Georgian architecture. Key buildings that are worth visiting include the neoclassical church, and Inveraray Jail and courthouse, now an award-winning museum that graphically recounts prison conditions from medieval times up until the 19th century.
A short walk north of the New Town, the neo-Gothic Inveraray Castle remains the family home of the Dukes of Argyll. The castle is set in extensive grounds which contain a number of marked walks, the most strenuous of which rises over 800 feet to the tower atop Dun Na Cuaiche from where there is a spectacular view over the castle, town and loch.
The town is also great gateway to the Highlands & Islands and provides an excellent base for day touring.
Kilmartin
Kilmartin Glen is one of Scotland's richest prehistoric landscapes. Within six miles of Kilmartin village there are over 800 ancient monuments. 150 of which are prehistoric. The wild and remote western coastline of Knapdale offers empty beaches and tranquility. Visit the national nature reserves within The Heart of Argyll, each offering unique experiences plus some beautiful easy walking and picnic spot options.
Slockavullin , you'll find opportunities galore to delve deeper into Scotland's past.
Things to See & Do
Take time to explore Crinan Canal. You can sail, walk, cylcle or kayak along Scotland's scenic canal. At just 9 miles long and in continuous operation since it was built over 200 years ago, the canal connects the picturesque harbour at Crinan overlooking the Sounds of Jura with Bellanoch, Dunardy, Cairnbaan and Ardishaig on Loch Fyne.
Our selection of self-catering accommodation also includes a large number of pet friendly holiday cottages as well as villas, and lodges.